Our CLIENT-CHOICE Food Bank is stocked with:
Non-perishable foods

Fresh produce

Dairy

Meats

Bakery items

. . . and much MORE!
Uniquely, we give our clients everything they need to make full meals for breakfast, lunch, and dinner!
Our products are obtained largely through donations from individuals, churches, schools, and local businesses. We also have partnerships with Giant, Sheetz, Starbucks, Flowers Baking Co., Central PA Food Bank, and Community Action Partnership.
Appointments | Requirements:
To schedule an appointment call 717-208-3711 x100.

Clients must live or attend church in the Conestoga Valley School District and meet financial guidelines.
At the first appointment, a photo ID and proof of address (i.e.- utility bill) is required.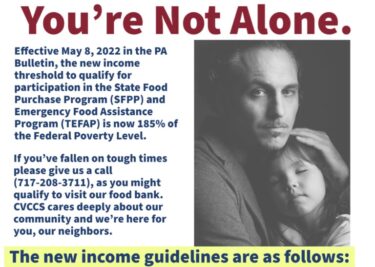 Holiday Food Program: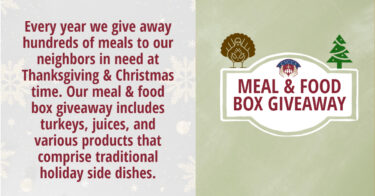 Typical items included in our holiday food boxes:
Stuffing
Cranberry Sauce
Canned Corn
Gravy Mix (cans, jars, or packets)
Applesauce or Canned Fruit
Potatoes (fresh or boxed)
Peas or Green Beans
Fresh Pies
Fresh Rolls
Fresh Turkeys