Our Clothing Bank is client-choice and provides seasonally appropriate gently used clothing to clients who live anywhere in Lancaster County, referred to us by an agency, school, or church.
The Clothing Bank is client choice, and stocked with:
A variety of clothing
Shoes & socks
Coats, hats, & gloves
New underwear for men, women, & children
. . . and much MORE!
A personal shopper assists clients with navigating the racks of clothing, and folds and bags items for clients.
School shoes for kids: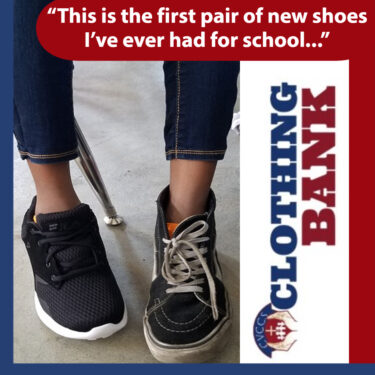 Shoes are one of the most visible signs of poverty. The simple gift of new school shoes can mean a new lease on life for a child in need! CVCCS provides new and gently used shoes for families in Lancaster County that need them the most.
You can invest in our community by donating new or gently used shoes to CVCCS, or by giving: cvccs.org/give.
We're clothing 'the nations' right here in Lancaster County: