Weekend Blessings needs your help!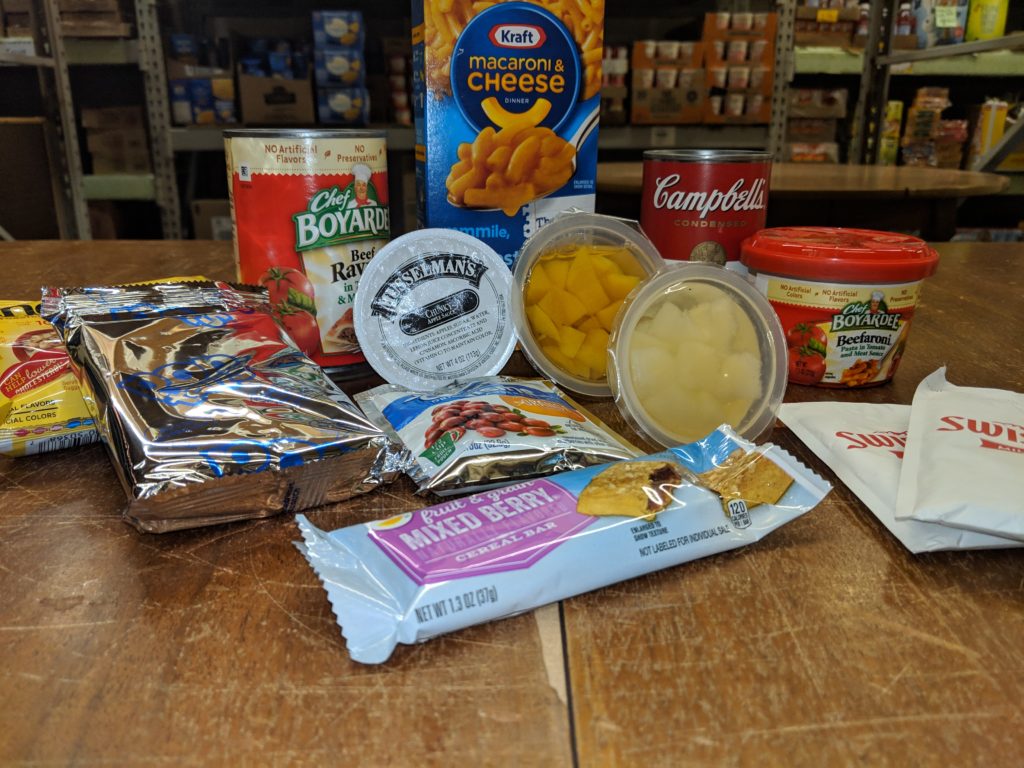 Since 2012, CVCCS has offered a program called Weekend Blessings that provides meal bundles of two breakfasts, two lunches, and two dinners to students in the Conestoga Valley School District who receive free or reduced-fee lunches during the school year.
Weekend Blessings was created to provide food to children who face food insecurity over the weekend. For some children, school meals are the only meals they get for the day.
But this year funding for the program is in flux, and we are calling on the community to help keep it going.
To give you an idea of how the program works, how much it costs to run, and how you can help, here is an overview:
Program
Weekend Blessing's meal bundles are assembled on Tuesdays by a very dedicated core group of volunteers at CVCCS. The meals are then distributed to school counselors the same day. We served 130 children a week during the 2018-19 school year.
On Fridays, a child who wants to receive a meal bundle goes to their guidance counselor for a bag that is then discreetly dropped into their backpack, so no one needs to know.
The food items included in the bundles are easy to make meals that children can safely prepare themselves. We found that for a majority of the children served by the program, they are often responsible for making meals on their own.
It is a challenge to include fresh fruits and veggies and other fresh foods because of our timetable. The bags are delivered to the schools on Tuesday (our only non-food bank day), but the children don't receive them until Friday. We do not want anything rotting in the guidance counselor's office before the child gets the bundle.
How much does it cost to run Weekend Blessings? 
The cost to run the program in 2018-19 was $33,600. A very generous family was funding the program since 2012, but, unfortunately, the family cannot support Weekend Blessings for the upcoming school year due to an unforeseen circumstance.
Why does the program cost so much? Well, the individual size and convenience type of foods (like pop-top soup cans and single portion cereal boxes) tend to be more expensive. Up until this year, most of the items have to be purchased retail because of availability and funding constraints. We are working on gathering information from the families that will allow us to procure food using federal money and from federally funded resources. It will help to cut down on some costs, but it is unknown at this point by how much.
What can you do to help?
It costs $8.00 to fund one child for one week. That adds up to $290 to feed one child for the entire school year. We are looking for people to sponsor the children we serve in the Weekend Blessings Program.
Will you sponsor a child so they can have access to food when school is out for the weekend?
Once you have chosen how much you want to give, you can pay in one of two ways:
By check made payable to CVCCS (write Weekend Blessings in the note area) and mail to CVCCS, 2420 Gehman Lane, Lancaster, Pa. 17602. or
Pay online by going to cvccs.org and click on the donate button at the top of the home page.
You can also start a food drive for Weekend Blessings with your family, church, or in the community by collecting the following:

Canned soups (pop-top cans would be best)
Canned pasta (Chef Boyardee type)
Boxes of mac & cheese
Fruit cups (Dole and Delmonte kind in plastic bowls that come four to a pack)
Applesauce cups
Individual sized cereal boxes or bags
Oatmeal packets
Pop-tarts or breakfast bars
Single servings of peanut butter
Non-refrigerated meat or cheese snacks (example Slim Jim's)
Individual boxes of raisins/cranberries
We appreciate any amount of money or product you can give to keep the program going!! Thank you!!
Feed the Hungry, and help those in trouble. Then your light will shine out from the darkness, and the darkness around you will be bright as noon. –Isaiah 58:10 (NLT)