"I'm a Disappointment . . ."
"I'm a Disappointment . . ."
Have you thought, felt, or had someone utter these painful words to you before? Lacking a healthy and accurate self-worth is a tragic epidemic that grips countless victims. In 2 Corinthians chapter 4, the Apostle Paul, under the inspiration of the Holy Spirit, warns the church at Corinth about the 'god of this world.' His name is Satan. He is the ultimate "blinder" and "distorter."
With that said, what do you think the 'god of this world' wants most? Satan's greatest desire is to block you from seeing how wonderful you are in the eyes of the only One that matters. His name is Jesus!
Have you heard the following lies before?
You're not good enough.
You're worthless.
No one loves you.
You're defined by your past.
You're a disappointment . . .
Do you know who else was classified as a "disappointment"? Jesus Himself. Here are a few examples:
Jesus disappointed His family. As a result, they questioned His sanity: See Mark 3:21.
Jesus disappointed His neighbors in Nazareth upon His declaration as Messiah. Because of this, they tried to push Him off a cliff: See Luke 4:28-29.
Jesus disappointed His disciples. He did not meet their 'expectations': See John 14:1-3.
Jesus disappointed the crowds. They wanted an earthly Messiah who would feed them all the time, fix all of their problems, overthrow the Roman oppressors, work miracles when they wanted, and give sermons that made them 'feel good': See John 6:66.
Jesus disappointed the religious leaders because He was an 'inconvenience' and 'thorn in their side': See Mark 11:27-12:17.
However, Jesus was deeply loved by His Heavenly Father and THAT'S what defined Him. Matthew 3:17 records, "And a voice from heaven said, "This is my Son, whom I love; with Him I am well pleased." Likewise, you are not defined by lies. Here's the truth: You are deeply loved by the God of the universe, and you are someone of great worth!
It's time to STOP believing lies. Let the Lord wrap His loving arms around you today.
Blessings,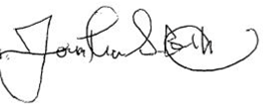 Rev. Jon Barrett | Director of CVCCS