The food bank at Conestoga Valley Christian Community Services is client-choice and provides non-perishable foods, fresh produce, dairy, meats, and bakery items to people in need who live or attend church in the Conestoga Valley School District and meet financial guidelines.
Clients may use the food bank once every 30 days by appointment only. Our shelves at CVCCS are stocked with many quality food items thanks to the generous donations from area churches, businesses, civic groups, and individuals. To donate food to CVCCS, or to start a food-drive in your community, please see the list of our current food needs on the right side of this page.
Click here for more information on how to hold a healthy food drive for CVCCS.
For more information about the food bank, or to arrange a drop off time for a donation, please call 717-208-3711 ext. 101.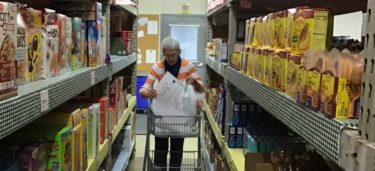 Dottie Slothower, Director of Client Services, packs a grocery order from the CVCCS food bank. During the pandemic, our staff has been working hard prepacking bags of food for clients. The orders are then delivered curbside to our clients' cars. We are also delivering to Nathan's Village in Leola to senior citizens who are not comfortable going out in public during the pandemic.