Extraordinary Give – November 16, 2018
Please remember CVCCS for the Extraordinary Give! Your donation of $50 or more is critically important to helping our homeless, at-risk, and socially isolated neighbors in Conestoga Valley and beyond.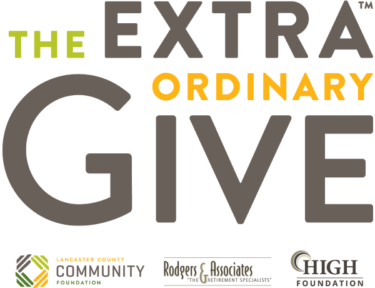 And join us that evening as we celebrate the ExtraGive at Conestoga Valley Middle School on Nov. 16 at 5:30 p.m. for a laser light Christmas show sponsored by the Conestoga Valley Educational Foundation! We'll be set up in the Middle School lobby of the school so stop by and say hello!
Four local organizations are coming together to put on the first-ever Extraordinary Give Light Show at Gerald G. Huesken Middle School.
Conestoga Valley Education Foundation (CVEF), Region 2 Technology Student Association (TSA), Conestoga Valley Christian Community Services (CVCCS) and Meals on Wheels are collaborating on the Light Show event that will be open to the community. The show will begin at 6:30 p.m. and run every twenty minutes until 8:30 p.m.
The light show is a preview of the TSA's Holiday Light Show, which is produced each holiday season by students in the middle and high school. It will feature a mix of holiday music and pop music and a special performance from the Select Choir. Refreshments will also be available. Additionally, CVEF, CVCCS, TSA and Meals on Wheels will each have a table where they will be sharing information with attendees about their nonprofits and offering opportunities to contribute to the Extraordinary Give.
"This event is truly collaborative and it is a great way for the community to get together and learn more about each organization," says Dr. Gerald G. Huesken, CVEF executive director. "We hope we see everyone out there supporting the Extraordinary Give and these nonprofits that aid the CV community."
Admission to the show is free, though donations are encouraged as part of the Extraordinary Give. The Light Show will take place in the parking lot of the middle school, while CVEF, TSA, CVCCS and Meals on Wheels will each have an information table located just inside the middle school.
Additionally, CVEF and its partners will also have a station set up at various local businesses throughout the day on November 16. They will be at Gracie's on West Main and the Coffee Company on Route 30 from 7 to 10 a.m., Texas Roadhouse on Route 30 from 11:30 a.m. to 2 p.m., and Funck's in Leola from 3 to 7 p.m. Some of the participating hosts will be offering discounted coupons to those who contribute to the Extraordinary Give.